Sorry for the long absence. I got so excited about doing the blog, and writing creatively again, and then Nick's marathon took over, then life took over, then Nick stole the creative gene and started writing a Novel (actually he finished a novel) for NaNoWriMo and it's taken me this long to think of something witty and clever to write. OK, so it probably won't be witty or clever, but at least I thought of something fill the page.
So I was sitting at the computer (getting rarer these days since Nick bought me an iPad Mini for Christmas) checking Facebook and the whippet message boards and generally catching up with the world and typing away at 80-100wpm and I looked up and saw these beautiful pens that I bought from some some members of a Facebook crafting group I belong to. Some of the members of the group make pens (among other things) - a craft called Pen Turning if you want to look it up. I bought a beautiful maple one for Nick (so sorry the photo doesn't do it justice, but he has it at work now - it's a maple bolt action) and 3 acrylic ones for me.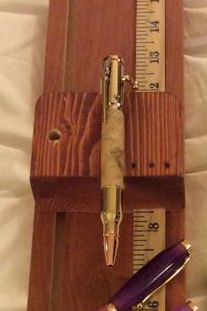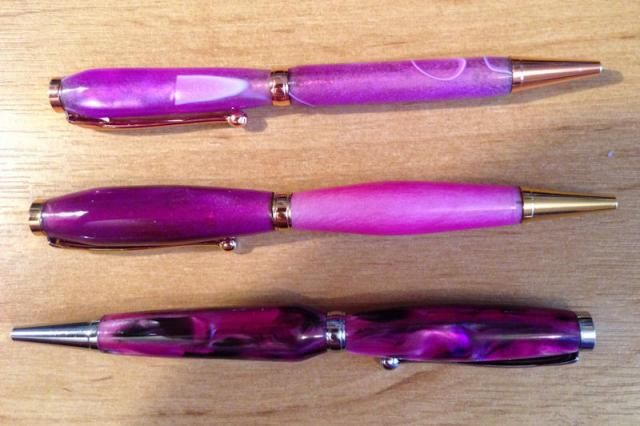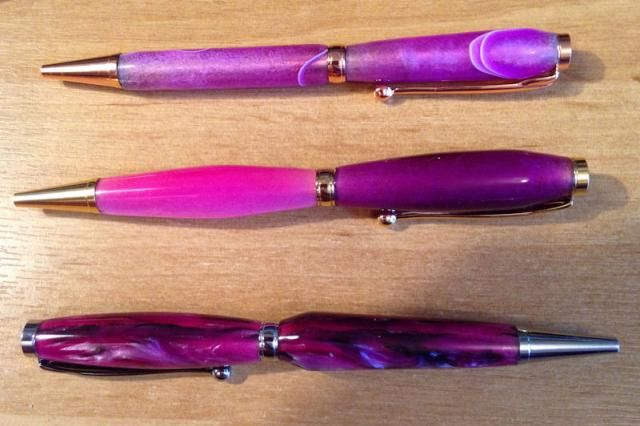 The Maple and the bottom acrylic are from
Mr Coop
Okay, so now that I have babbled and bored you, I will finally get to the point of this blog. I have been a pen and stationery addict from really young. There was nothing I loved more than shopping at the beginning of the school year - fresh packs of paper, new binders, and especially new pens. I loved pens of all kinds. Coloured pens, gel pens, fountain pens. I REALLY loved fountain pens and then I could truly write. I never did learn proper calligraphy, but I could write beautifully with a good fountain pen.
I LOVED writing. I mean handwriting rather than creative writing (though I love that too). I had really nice penmanship, an
d I loved to write. As soon as I learned to type I also loved to type because it meant I could write faster, but I still loved the act of writing, and as Nick will attest my love of all things 'pen and paper' still exists.
The unfortunate thing in all this, as these beautiful pens above can attest to, is that in this current age we are always on a keyboard. Whether it be a desktop, laptop, phone or tablet, we use our fingertips to do most of our writing these days (the latter two much to the detriment of language, but I've already talked about that HERE), and we have lost the art of actually writing. I loved to write letters in longhand to send to my friends. When I first moved to England from Canada I would write pages to my friends. Of course things would have been easier had all the conveniences of the internet been around then - I wouldn't have felt so alone in a strange country if I could have jotted the odd note here and there to my friends across the sea, but I WROTE.
Then I had office jobs and I wrote there. I also used computers, but still did a lot of handwriting. Unfortunately these days I work from home due to health issues. I make fleece dog toys, and now have started making paracord collars and leads (that's another post), and I keep all my work related notes in an 'app' I can access from my phone or tablet or computer so that I can access them from anywhere. Convenient, but sad.
So I have these new pens, along with a huge collection of other pens that I love, and the most use they will see is me writing the odd notes to myself while paying bills online, or making a reminder (if my phone isn't handy). So they will sit here for me to look at lovingly and longingly until I force myself to write something, to write ANYTHING, just for the joy of using them and of writing again.
And that will sadden me more, because with the lack of physical writing, while I 'can' still write neatly and beautifully, I have started to scrawl and after a short time my hand will cramp. Then I look at the chicken scratch on the page - equally as bad as anything my pharmacist father or physician husband could write, and I want to cry.
And then my wonderful husband who I truly adore will come home at the end of the day and say that the lady at the Post Office couldn't read the postcode I wrote on the envelope I asked him to mail, and that will be the crowning end to my day.
So on behalf of all of us stationery and pen addicts out there, I beg you to not let handwriting fall by the wayside. Write a letter to a friend, write a loving note to your other half, or your parent or your child. Write a thank you to a teacher or to someone who has done something meaningful for you, or write to someone someone who needs something meaningful shown to them. But please WRITE.