No it's not a metaphor for a naughty word, though I'm sure many could use it that way if they're fed up enough with it. Those of you with dogs should understand. And your tolerance of it will vary depending on many factors (OCD, laziness, appreciation of your dogs' efforts), but if you're like me you give up trying to keep on top of it and eventually it just takes over. So what is SNART you ask? It's the lovely doggie nose art (or unbecomingly called 'snot art' or SNART for short) that decorates the windows of most dog lovers' homes.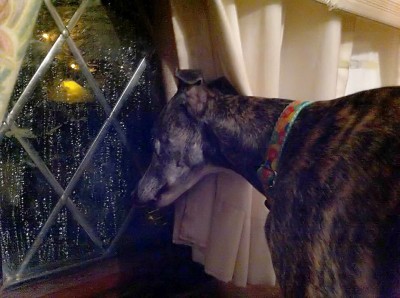 Dogs love to watch out the window. Unfortunately, with my dogs, the window watching comes with barking and shouting at the kitties sitting across the street, the children running in the street, birds flying above the street, leaves blowing down the street, basically at anything that moves. Well they are sighthounds, and anything that moves must be shouted at and/or chased. Then there's the excessive display when we arrive home from a human only outing and don't get in the house fast enough. The screaming and swearing and language that comes from those normally sweet little faces is a bit startling. And in the midst of all this being nosey and watching, shouting and swearing comes the inevitable nose prints.

When we just had 2 or 3 dogs we had this pretty much under control. We had wooden slatted blinds. They pretty much respected the blinds. Occasionally a nose would peek through when we got home to check it was us, but they would wait (still shouting at us to hurry up) inside the door instead of banging at the window. The few prints that got on the window could be easily wiped away.
As the number of dogs grew (we are NOT collectors, we are just addicted to whippets), a couple of them (*cough* Drama & Teya *cough*) got clever and started sticking whole heads through the slats. Then Drama got even more clever and would stand up and put the whole front of her body through!
And that was the end of using the blinds alone to cover the windows for fear of her bringing them and the plasterboard crashing down on her.
We thought we'd outsmart them and put up some muslin curtains between the window and the blinds so that when they looked through they couldn't see out and would give up. But nope – Drama was having none of it. She taught her children and her mother (sweet Queen Savannah would never be part of that hooliganism) to push aside the blinds and curtains, or to push the blinds up from the bottom. Kendra helped by adding her teeth to the mix and chewing out a section of the blinds.
And then that WAS the end of using the blinds for the bottom half of the window at all. I love my dogs but sometimes their cleverness is their undoing (or should that read MY undoing?)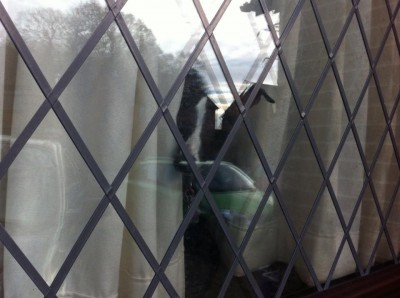 So we gave up on trying to stop them seeing out, and relied on the muslin curtains to provide some kind of privacy from the outside. But let's be honest, when you've got 4 dogs pulling them aside at every opportunity there really is no privacy. And where we once had little manageable nose prints, they now had full access to the window whenever they wanted (especially when we were gone and couldn't tell them to get out of the window) and the nose prints multiplied into full on SNART! It grew, layer upon layer until when you looked at it up close it almost looked like privacy glass.
I tried to photograph it, but apparently SNART has magical properties. It cannot be photographed. It completely disappears in pictures, and the glass looks clean as a whistle. I've gone back through our photos for pics of the dogs in the window where I know there was plenty, and the window is clean in every single one. I bet the neighbours wish they'd been looking at photos of our window instead of the real thing!
I mention above that it was so thick it looked like privacy glass. I truly wish it would have worked like privacy glass because if it had it might have stopped the excess shouting at kitties, leaves, children, birds etc. But perhaps SNART is invisible to the dogs as well as the camera because it never stopped them. So finally we have decided to add a privacy film to the glass in the hope this will curb the naughty whippet chorus. And also because I'm sure the neighbours will look more kindly on it than the SNART.
In preparation for the privacy film today was the day the SNART was removed. I'm sort of embarrassed at how much elbow grease it took to get it all off. As I said, for some of us it gets to a point where it's easier to ignore it than keep on top of it. I kind of knew in my head how out of control it had become, but it wasn't until the stuff actually started fighting back that I realised the enormity of it. But then again it is art, and art doesn't want to be destroyed. Yeah, that's what I'll tell myself, I'm sure someone will buy that explanation. Eventually I won and the front window is now sparkly clean - at least until tomorrow afternoon's kitty barking brigade.
Hopefully the privacy film will arrive soon, and the dogs will be disappointed to no longer see clearly through the front window. They'll just have to settle for using the back sliding door as their only canvas.